WELCOME

Welcome to the parish website of The Church of The Most Precious Blood' Sidmouth within the Roman Catholic Diocese of Plymouth. Our parish priest is Canon Paul Cummins and he lives in the presbytery.
Everyone is welcome here, no matter who you are or where you are on your faith journey. If you have lost touch with us for a while we would be delighted to see you again and listen to your story. As we journey on from the joy of Christmastide into Ordinary Time, I pray that you may begin this new year with a deeper desire for God in your life.

LATEST NEWS
<!

PPC meeting - January
The notes of the most recent PPC meeting are available
here
.

Epiphany - Sunday 7th January
Thanks to everyone who joined us for a wonderful parish Epiphany party after 10:30am Mass, and those who stayed to enjoy the fun and games of the children's party. The Epiphany prayer and praise in the evening was a fantastic opportunity to to thank God for revealing Himself to all people, and we hope to plan another one very soon - watch this space!

Pope Francis' prayer intention for January 2018
Evangelisation:
for religious minorities in Asia, that Christians and other religious minorities in Asian countries may be able to practice their faith in full freedom.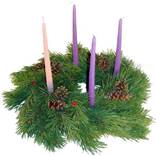 Advent and Christmas
Our
leaflet
gives you information about some of events happening here during Advent. We also have
Advent and Christmastide at a glance
which will tell you all the dates you need to know from now until Epiphany!