WELCOME

Welcome to the parish website of The Church of The Most Precious Blood' Sidmouth within the Roman Catholic Diocese of Plymouth. Our parish priest is Canon Paul Cummins and he lives in the presbytery.
Everyone is welcome here, no matter who you are or where you are on your faith journey. If you have lost touch with us for a while we would be delighted to see you again and listen to your story. As the nights draw in and our thoughts turn to Advent and Christmas, we look forward to welcoming you to our church, and pray that you find rest and renewal here with us.

LATEST NEWS
<!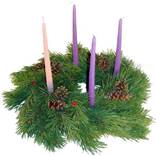 Advent 2019
Our
Advent and Christmastide at a glance
leaflet has all the important dates you'll need for the coming weeks. We look forward to seeing you!

Pope Francis' prayer intention for December 2019
Young people:
may every country take the necessary measures to make the future of the very young a priority, especially those who suffer.

PPC meeting - September
The notes of the most recent PPC meeting are available
here
.

General Data Protection Regulations
If you have not already done so, please fill in
this form
and return it to the parish office. Many thanks for your help. The Plymouth Diocese privacy policy is available
here
. For more information please contact the Diocesan team at
dpm@prcdtr.org.uk